Meet the Dental Team – Whitney, TX
The Team Helping Lake Whitney Smile
Dr. Oakey wouldn't be able to provide the outstanding care he does without the help of his talented, dedicated team. Our knowledgeable dental assistants, hygienists, and administrative staff strive to accommodate your every need so that your visit is as relaxing and stress-free as possible. They love getting to know our patients, so we hope you'll take a moment to read a little bit more about them below.
LEONA, REGISTERED DENTAL HYGIENIST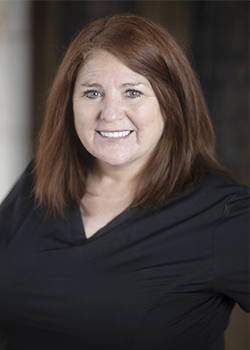 Leona may be a somewhat new addition to our office, but she has over two decades of experience in the dental field! In addition to studying at Hill Community College and Temple College, she has advanced training in nitrous oxide, Lumineers, and Invisalign. Since joining our team, she has thoroughly enjoyed helping each patient achieve their smile goals at our practice instead of sending them all over town for different referrals.
Leona was born in Warrington, England. She is a mother of four beautiful children and grandmother to five amazing grandchildren. She is an active member of Open Range Cowboy Church and enjoys helping kids learn the equestrian lifestyle.
DIANE, INSURANCE/ACCOUNTS RECEIVABLE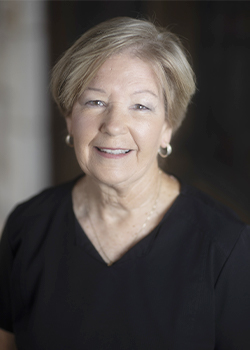 Diane has over three decades of experience in the dental field, and 27 of them have been at our office. She understands how confusing it can be for patients to understand their coverage, and she loves making that part of the process seamless. Whether you are unsure what your dental plan includes or need advice on selecting which one is best for you, she is here to help!
In her free time, Diane loves working in her yard, baking, and spending time with her husband of 42 years. She also has nine wonderful grandchildren who range from ages 4 to 21!
EMILY, FRONT DESK ASSISTANT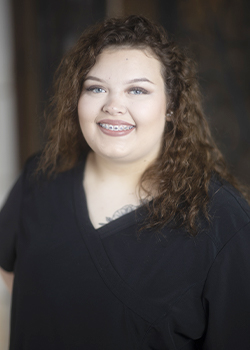 Emily is originally from Hillsboro and studied at Hill Community College. She may be relatively new to our team, but her genuine care for our patients make her a natural fit. She loves seeing them leave with their dream smile and working alongside her amazing coworkers who make that a reality.
Outside the office, Emily loves spending time with her family, singing, and dancing!
JAMA, ORTHODONTIC/DENTAL ASSISTANT
Originally from Grandview, TX, Jama entered the dental field nearly three decades ago. She studied at Cleburne High School and ATI Career Training Center. Since joining our team over three years ago, she has enjoyed changing people's lives, starting with their smile!
Jama is married to her husband of 22 years, Scott, and has 16-year-old twins, Delainee and Dawson. She's very much an outdoors person, so you can often find her swimming, spending time at the beach, and watching her son play baseball.
JODIE, DENTAL ASSISTANT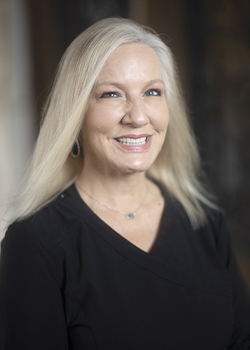 Jodie joined our team over six years ago after completing her studies at Everest College. Today, she has advanced training in implants, CAD/CAM, nitrous oxide, and sealants (to name a few!). She absolutely LOVES what she does, and her favorite aspect of her job is working alongside her amazing work family to help each patient get their confidence back.
When she isn't helping our patients achieve pristine oral health and beautiful smiles, Jodie spends time with her three gorgeous daughters, three grandchildren, and three grandpups! She also loves country dancing, fishing, and enjoying time with friends.
KYLA, DENTAL ASSISTANT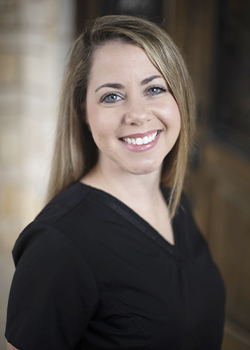 Kyla's hometown is China Spring, TX, and she has over 12 years of experience in the dental field! She has completed advanced training in a number of areas of dentistry, including CAD/CAM, implants, and nitrous oxide. Since joining our team seven years ago, she has enjoyed helping each patient with their unique smile goals.
Kyla and her husband of eight years have a wonderful little boy named Kyle together. They love fishing, going to the farm to visit the cows, and giving the neighborhood dogs treats!
MELANIE, REGISTERED DENTAL HYGIENIST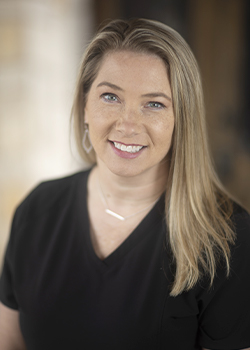 For nearly 15 years, Melanie has helped countless patients regain their confidence while simultaneously learning about the importance of their oral health. She studied at Hill Community College and completed a dental hygiene program at Sanford-Brown in Dallas, TX. Plus, she has undergone training in bleaching treatments, oral cancer screenings, pit and fissure sealants, and intraoral photos!
With her husband of over two years, Melanie has six children and two amazing grandchildren. In her free time, she loves reading, live music, and camping with her family.
SHERRI, RECEPTIONIST/HYGIENE COORDINATOR/SOCIAL MEDIA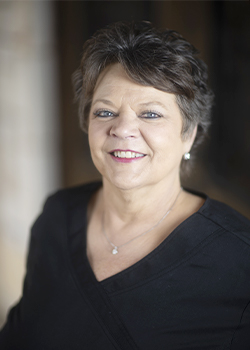 Sherri has over 45 years of experience in the dental field and has spent nearly 20 of those years with our team. She studied at Texarkana Jr. College, and she loves creating an upbeat atmosphere for our patients and her fellow team members. She also excels at seamless scheduling, improving the experience for our new and existing patients, and making everyone who walks through our door feel right at home.
Sherri has been married to her husband for 36 years, and together they have a daughter, Katie, a "son-in-love," Tony, and a wonderful grandson, Julian. She also loves gardening, crafting, cooking, and deer hunting!
STORMY, Registered DENTAL ASSISTANT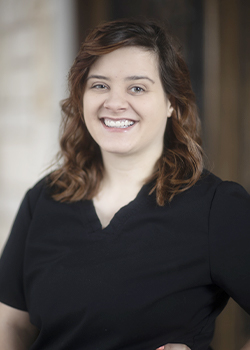 Stormy studied dental assisting at Texas State Technical College, and she also has advanced training in oral surgery, prosthetics, nitrous oxide, and more. As one of our assistants, she loves treating patients who haven't smiled in forever and helping them feel happy about their appearance again! Working with the amazing staff at Lake Whitney Dental is always enjoyable for her.
At home, Stormy has a little boy named Kaiden who is her whole world. She also spends plenty of time with her mother and little brother. Outside of working hours, she spends her time taking Kaiden to various fun activities like bowing or the zoo. She also likes to hunt, fish, and ride four-wheelers.
TABITHA, DENTAL ASSISTANT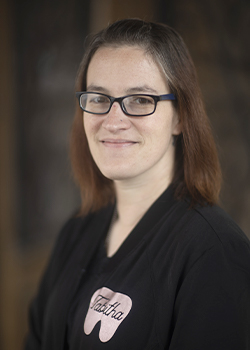 Although she may be relatively new to our team, Tabitha has been in the field of dentistry for over 12 years! She studied at Career Centers of South Texas, and she has undergone training in CPR, nitrous oxide, and coronal polishing. Her favorite aspect of her job is working with her amazing work family to make each patient feel comfortable.
Tabitha has been married to her wife for five years, and she has three kids, three dogs, and a turtle. She loves spending time with them, reading, and watching movies.